Method 3. Without a joint.
To make this book more interesting, I am going to switch from simple to complicated and vice versa. Let's go back to the first method and try to get rid of the joint at the bottom of the mast keeping it simple and fine. As you noticed, it's the structure of a mast that contains the secret of any assembling method, and this one is no exception. The mast has no joint at all; it is pulled into an opening in the body with the help of a fishing line. The hull should be made of wood; drill a tiny (0,5 – 1 mm) reach-through hole in the socket for the mast; it will be used for the fishing line. Make a hole in the bottom of the mast, run the fishing line through the hole in the mast, then through the reach-through hole in the body and take it out. After that you can pull the fishing line and that will put the mast into vertical position. Glue the mast to the body and take the fishing line out (pic. 11).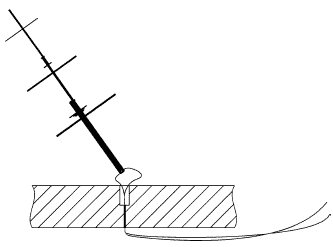 Pict.11
The rigging is attached in the same way as it was described in the first method: glue shrouds and backstays to the body and pull the stays into openings in the bowsprit. Don't forget to get rid of excessive threads.
This method allows you to maneuver and, if you use various ways of assembling, you can get unexpected results.
Before I start describing the most interesting and at the same time complicated and time-taking assembling method, let me surprise you with a ridiculously simple yet original method. Imagine a ready model of a ship. All the anchors ropes and stays are attached, the unnecessary threads are cut off, and there are no joints and threads sticking out. A few simple actions and the model is inside the bottle in the same condition. Was it a joke? No. Just have a look at the next chapter.